4 Advantages of a True Hardwood Floor
Many of us have heard it for years…" hardwood floors are the way to go!", but it isn't often someone explains why this is the case. There are many reasons to go with a hardwood floor, but today we are going to breakdown what we feel are the top 4.
High-quality look
There is just something about the look of a hardwood floor, isn't there? Though there are many floors out there that "mimic" the look of hardwood, none offer the actual look and feel of what hardwood brings to a room as it has a timeless beauty that can't be duplicated. It is almost something that can't even be put into words, but when a room has hardwood it just feels different…richer…homier & warmer.
Easy to clean
Carpet can be a nightmare when it comes to cleaning. Have you ever gotten gum in a longer Berber carpet? Ever spilled Kool aid on a tan carpet? No one plans on these types of accidents, but they happen, and hardwood offers a much easier cleaning experience.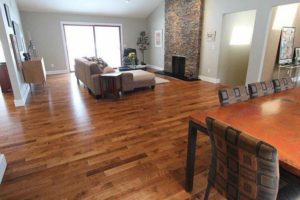 Strength and durability
High-quality hardwood floors can last for generations. Can anyone say that about carpet or linoleum? Even "wood look" flooring can need to be replaced several times before a hardwood floor needs to be replaced. So while it might be a bit more at the onset as far as overall expense goes, it makes up for it many times over when it comes to replacement cost and the opportunity cost of having your house torn up several times for flooring replacements.
A great long-term investment
Planning on being in your home for more than a few years? Hands down, hardwood is the way to go. Hardwood flooring is a fantastic investment for you to make for your home, and it is something that people look for when buying a new home.
So when a floor needs to be replaced, there are many facets to look at, and we encourage you to call us and let us give you a quote on any room that you are considering a flooring replacement in. You & your grandkids will love the quality LONG after the slight increase in cost is but a distant memory!