About Hoosier Hardwood Floors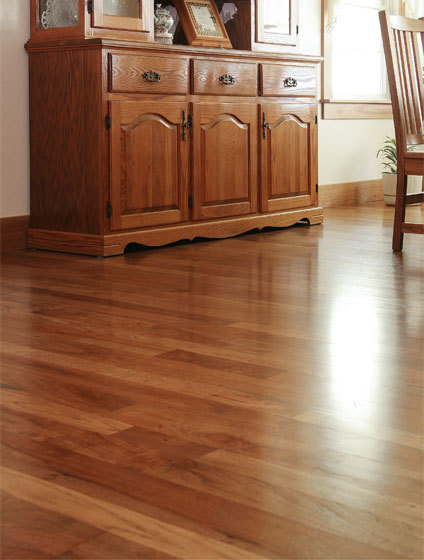 Hoosier Hardwood Floors was started in 2003 by Gerald Miller. Gerald's goal was to provide high quality pre-finished flooring to the greater Michiana area. Hoosier Hardwoods developed a relationship with Chelsea Plank Flooring and became a distributer. In 2008, Hoosier Hardwoods began performing site finishing of floors in addition to installation of pre-finished floors.
In 2011, Hoosier Hardwood Floors joined forces with Ideal Coatings in a partnership that allows each company to bring its specialty to local customers, thus rounding out our offerings and widening our areas of expertise with hardwood floors.
As a locally owned and operated company, Hoosier Hardwood Floors takes pride in our Midwestern location and is proud to fulfill Gerald's goal. Supplying superior pre-finished and site finished hardwood floors and using local resources, Hoosier Hardwoods is dedicated to customer satisfaction. With experienced and trained installers and refinishers, we're confident we can get the job done. Being a member of the National Wood Flooring Association, Hoosier Hardwood Floors' skill is as high quality as our products.
And we're always mindful of dust, debris and disruption for you, the homeowner, so we thoroughly clean up after each day and each job to leave your house clean and tidy. Just one more way Hoosier Hardwoods aims for customer satisfaction.
Visit our showroom in Goshen to see samples of 400-500 different types of wood, finishes and options for your next hardwood floor. With the durability and beauty of hardwood and the skill and expertise of our qualified installers and refinishers, we know you'll believe Hoosier Hardwoods has more than achieved Gerald's goal; we've surpassed it.
OUR MISSION
Our mission at Hoosier Hardwood Floors is to provide you with a high quality hardwood floor that will last you a lifetime & beyond. Design or create a floor that is unique to & your style with quality engineered or solid hardwood products. We want to build a relationship that extends to next the generation.